Magic Photos
Magic Photo is the new must have feature for any party, bringing to life the photo album like never before. Simply record a personalised message and once you are done a photo will be printed which gets put in the guest album.
Here's the special bit, when a bride and groom or any guest looks through the album they can hover their phone over the photo and, using our free app, it comes to life! Playing your full video message for them to enjoy.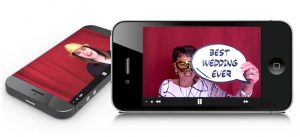 HOW IT WORKS
Step 1: Load up the app
Step 2: Hover phone over the image
Step 3: Watch the image come to life
Step 4: Share with everyone!
What an amazing bit of tech! My husband & I were so impressed we booked The Best Photobooths on the spot. We love watching the videos when looking back at our guest book full of memories.
Contact us today to check availability.
Call: 07966 053439 Email: info@thebestphotobooths.co.uk